ROSE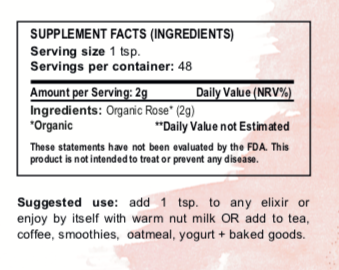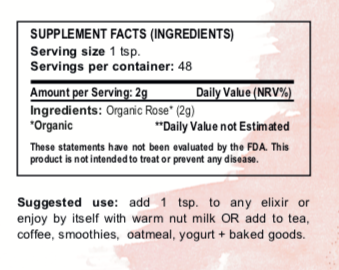 ROSE
ROSE // for radiant skin, balanced emotions + inner peace
Ingredients: organic ground rose petals
Rose has been called the "mother herb" for her nurturing + comforting effect on the body + mind. Sip on rose to soften any rigid thoughts, relax your body and uplift your mood.
Suggested use: Suggested use: add 1 tsp. to any elixir or enjoy by itself with warm nut milk OR add to tea, coffee, smoothies, oatmeal, yogurt + baked goods.
THESE STATEMENTS HAVE NOT BEEN EVALUATED BY THE FDA. THIS PRODUCT IS NOT INTENDED TO TREAT OR PREVENT ANY DISEASE.